Concord Grape Ice Cream Recipe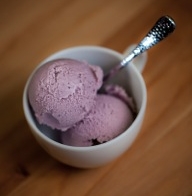 ---
Tools:
Rubber Spatula
Ice cream maker
Non reactive saucepan
Immersion blender or blender
---
Custard Ice Cream Base:
1 cup heavy cream
1½ cup organic 2% milk
½ cup sugar
½ teaspoon kosher salt
3 large organic egg yolks
---
Grapes:
---
Directions:
In a saucepan or medium heat, stir milk, cream, ½ cup sugar and salt. When the mixture begins to boil lightly, take off heat. Meanwhile, whisk the yolks and remaining sugar until pale yellow, about 30 seconds. Slowly pour a cup of the hot milk mixture into the eggs to temper and then, pour back into the saucepan. All the custard ice cream ingredients should now be in the saucepan. Put pan back over medium heat and constantly stir with a rubber spatula until thick and coats the spatula like melted ice cream, about 5 minutes.
Let cool while preparing the grapes.
In a large bowl, crush the grapes with a big spoon, or squish with hands. Remove the peels into a separate bowl. Squeeze them lightly and strain to extract the purple juice. Discard peels and set aside. Separate the seeds from the inside of the grape with your hands. After discarding the seeds, use immersion blender until fully blended. When adding both juices together, you should have about 1-2 cups of grape juice.
For a rich ice cream with a light grape flavor add 1 cup of grape juice into the custard base with the blender. For a more sorbet like and stronger flavor, blend all juice in the base.
Cool for 2 hours in fridge or up to overnight and pour into ice cream maker for about 25 minutes.
Notes: The juice from the grape peels and the inside have a distinctly different flavor and texture. Try both and experiment with the ratio which will affect the ice cream flavor as well as the color. Careful while squishing the grapes, they will turn everything purple, including your fingers.
Concord Grape Panna Cotta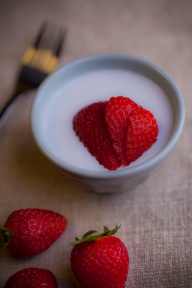 ---
Ingredients:
1 cup heavy cream
1½ tsp unflavored gelatin powder
2-3 tbls sugar depending on your sweet tooth
½ cup Concord Grape juice
Blueberries, strawberries, or raspberries for garnish
½ pound of Concord Grapes
---
Directions:
Separate the grape from the outer peel by crushing in a large bowl. Place all peels into a separate bowl, lightly press to release the purple juice and then strain. Discard peels. Remove seeds from the grapes, add the purple juice and with an immersion blender, blend until smooth.
Evenly scatter gelatin over ½ cup cream and let dissolve for at least 10 minutes. With the rest of the cream and sugar, heat in saucepan until it begins to boil. Take off heat and add the gelatin mixture. Cool for about 10 minutes and whisk in the grape juice. Pour into several small jars or ramekins and cool in the fridge overnight wrapped tightly in plastic.
You can dip the jar in hot water and invert to unmold. Tastes great with any type of berry.